We are located at 5363 Balboa Boulevard, Suite 246, Encino, CA 91316 and our office is open Monday – Friday 7:45 AM to 4:30 PM.
Conveniently located in the San Fernando Valley, our office is in the heart of Encino immediately off the Balboa exit of the 101 freeway. Our boutique office is located on the second floor of the West Valley Medical Center, which also houses a café and pharmacy on the first floor; it is located directly across the street from the Encino Plaza Surgery Center. Upon arrival, walk through the sliding doors into the main lobby and take the elevator to the second floor.
To schedule an appointment, please call us at (213) 451-6824 or click here to book an appointment online.
FEATURED EYELID PROCEDURES IN OUR ENCINO OFFICE
The doctors of Eyesthetica are meticulous surgeons that evaluate the face in many dimensions. They are experts in assessing:
The upper face continuum (forehead/eyebrows/upper eyelids)
The orbital region (upper and lower eyelids)
Midface continuum (lower eyelid-cheek transition)
Lower face (lips, neck)
Eyesthetica patients have many options for facial rejuvenation, including surgery, facial fillers, neurotoxins, and laser/chemical skin treatments. Our goal is total patient satisfaction.
EYELID SURGERY
FOR A YOUTHFUL AND NATURAL APPEARANCE


DRIVING DIRECTIONS to Eyesthetica Encino
From the South: Take I-405 N passing Getty View Park. Continue on I-405 N and merge onto US-101 N toward Ventura. At Sepulveda Basin Community Garden Center, take exit 21 for Balboa Blvd. Turn left onto Balboa Blvd and you will find us located on the right in the West Valley Medical Center.
From the North: Take I-405 S past Sepulveda Basin Wildlife Reserve and take exit 64 for Burbank Blvd. Turn right onto Burbank Blvd and continue past Encino Municipal Golf Course. Turn left on Balboa Blvd and we will be located on the right, next to Family Medical Clinic & Pediatric Urgent Care.
Parking is accessible in the front lot of the Valley Medical Center. This lot has a daily maximum of $10 and only accepts cash.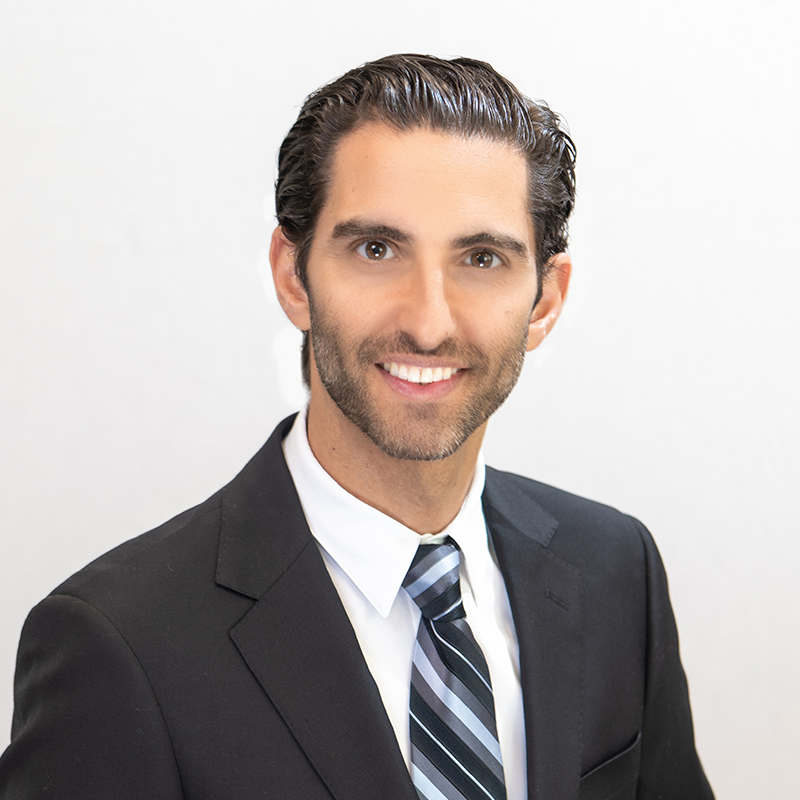 ENCINO

CHIEF EYELID SURGEON
David B. Samimi, M.D. is the chief eyelid surgeon at Eyesthetica's Encino office. He also serves as an Assistant Clinical Professor at the Keck School of Medicine at the University of Southern California. Dr. Samimi delivers lectures nationwide on eyelid surgery and regularly publishes research in peer-reviewed journals.
After earning his medical degree from the David Geffen School of Medicine at UCLA, Dr. Samimi completed his ophthalmology residency at the top eye care training program in the country, University of Miami's Bascom Palmer Eye Institute. His subsequent fellowship in oculofacial surgery at Eyesthetica uniquely positions Dr. Samimi to address both aesthetic and functional aspects of his patients' eyelids.
Although Dr. Samimi is a world-renowned surgeon, when you meet him at our Encino office, his calm demeanor and sharp wit will make you feel right at home. He has a natural ability to put patients at ease, starting with their first visit and extending through the entire relationship. Dr. Samimi creates a personalized treatment plan for each patient, tailored to a patient's individual goals. A San Fernando Valley native, Dr. Samimi lives in Westwood Los Angeles, speaks Spanish and Farsi, and enjoys time with his family, travel and the outdoors.
Dr. Jordan R. Conger
is a skilled ophthalmologist and is well versed in aesthetic surgery and functional eyelid, lacrimal, and orbital surgery. He has extensive experience in cutting-edge facial aesthetic procedures, such as
cosmetic blepharoplasty
, brow-lifting,
facelifting
, fat grafting, and injectables. Dr. Conger also has additional training in the latest innovative techniques, such as corneal neurotization.
Dr. Conger secured his neuroscience degree with the highest honors from Vanderbilt University before graduating with his medical degree from the University of Virginia School of Medicine. Returning home, he completed his ophthalmology surgical residency at the University of California, where he was selected among his peers to serve as chief resident in his final year.
While completing a highly coveted two-year fellowship in Oculofacial Plastic Surgery at Eyesthetica and the University of Southern California, he performed thousands of life-changing reconstructive surgeries for patients with cancer and trauma, as well as those with congenital and acquired diseases. The fellowship is also one of the few approved by the American Society of Ophthalmic Plastic and Reconstructive Surgery.
Dr. Conger is particularly passionate about improving the safety and efficacy of anesthesia techniques for office-based surgery, which inspired his published research in journals like the Journal of Ophthalmic Plastic and Reconstructive Surgery. He has also presented his research at several national meetings.
When he isn't giving his all to be the best eyelid surgeon in California, Dr. Conger enjoys cooking, hiking, traveling, and spending time with his husband and their miniature dachshund.
Dr. Samimi is the absolute best. He cares about you,
is a perfectionist, great surgeon, great bedside manner,
and very warm. If you want great, natural results,
look no further.
BROW-EYELID UPPER FACE CONTINUUM
There are a variety of options – both surgical and non-surgical – to improve the appearance of your forehead and brow.
If you're interested in aesthetic enhancements to your upper face, Dr. Samimi will meet with you at Eyesthetica's Encino office to discuss your goals and create a personalized treatment plan.
BROW LIFT UPPER FACE (SURGICAL OPTIONS)
BROW LIFT IN ENCINO
Over time, gravity and volume loss can make the skin of the forehead sag, causing the brow to descend and the brow tissue to deflate. This can lead to hooding of the upper eyelids and creates a tired, angry, or sad expression. A brow lift is a surgical procedure in which the forehead is elevated to create a more youthful and rested appearance by reducing wrinkles and creases. It can be done endoscopically (using a miniature camera) or open.
There are many types of brow lifts available, each of them depends on our patients' unique needs. At Eyesthetica in Encino, Dr. Samimi works with each patient to customize the perfect brow lift. While browlifts vary by degrees of invasiveness, typically this procedure entails repositioning the muscles of the forehead and sometimes tissue removal and volume augmentation. Elevating the brow can improve the heaviness of the upper eyelids.
BOTOX & FILLERS UPPER FACE (NON-SURGICAL OPTIONS)
BOTOX AND FILLERS IN ENCINO
BOTOX® is a non-surgical cosmetic injectable used to smooth fine lines and "dynamic" wrinkles in the forehead by relaxing the movement of the facial muscles that cause the skin to wrinkle. The effects of having your BOTOX® treatment in Encino can last up to three months. The doctors at Eyesthetica Encino will help determine whether BOTOX® or other neurotoxins like Dysport®, Xeomin®, or Myobloc® are right for you.
Non-surgical dermal fillers are injected into the upper facial tissue to add volume to deflated tissue to reduce the appearance of fine lines and "static" wrinkles (wrinkles that remain even when the muscle is not moving). Fillers injected by an Oculofacial Surgeon are minimally invasive injections and results can last up to one year.
LASER SKIN RESURFACING IN ENCINO
Skin cells are constantly regenerating. As we age, tissue loss, pigmented age spots, sun damage, fine lines, and wrinkles develop. Laser skin resurfacing is a non-surgical procedure that speeds up the body's own process of renewal by stimulating the skin's natural healing response and collagen production. It treats age spots, pigment, fine lines, acne scars, and some birthmarks. It creates a beautiful, youthful complexion.
I couldn't believe my doctor is also the doctor who
trains the doctors, I couldn't be happier with my
procedure
UPPER AND LOWER EYELIDS (ORBIT)
The thin, sensitive skin of the eyelid is typically the first area of the face to show signs of aging. Hanging skin and fatty bags can progressively create an exhausted appearance. Several treatments are available to enhance the appearance of your eyes. Dr. Samimi will meet with you at our Encino Oculofacial Surgery Office to determine the optimal treatment based upon your concerns, goals, age, ethnicity, and gender.
DOUBLE EYELID SURGERY UPPER EYELID (SURGICAL OPTIONS)
UPPER EYELID (NON SURGICAL OPTIONS)
LATISSE® EYELASHES IN ENCINO
Latisse® is the only FDA-approved treatment that has been clinically proven to grow eyelashes. It is a prescription treatment that is non-invasive and is applied to the base of the lashes every day to promote growth.
LOWER BLEPHAROPLASTY LOWER EYELID (SURGICAL OPTIONS)
LOWER BLEPHAROPLASTY / EYE BAG REMOVAL IN ENCINO
Lower blepharoplasty is a minor surgical procedure that can provide major improvements in the appearance of puffiness and "bags" underneath the eyes. During the procedure, excess fat can be removed or repositioned through an incision hidden inside the eyelid, while loose skin can be tightened with an incision camouflaged beneath the eyelash line. The orbicularis muscle responsible for eyelid blinking is preserved — the hallmark of our Healthy Blink Blepharoplasty™ technique. Ask Dr. Samimi which approach is right for you!
FAT GRAFTING IN ENCINO
Fat grafting is the transfer of fat from one area of the body to another. Small pieces of fat can be used in the face to fill creases and wrinkles for a more youthful, vibrant appearance. Although its effects are similar to other injectable treatments, fat grafting is a longer-lasting solution that carries a lower risk of infection.
FAT REPOSITIONING IN ENCINO
Fat repositioning is when fat already present under the eyelids is meticulously mobilized to fill in the eyelid hollows beneath the bags. This procedure carries a lower risk of irregularities than traditional fat grafting, since fat is not grafted from other parts of the body – what is already there is simply being rearranged.